This Hummus & Greek Salad is YUM-MY! Tomatoes, cucumber, red onion and feta top arugula come together in this quick Greek salad. Served with whole-wheat pita and prepared hummus, it makes a filling, yet healthy lunch. 🥗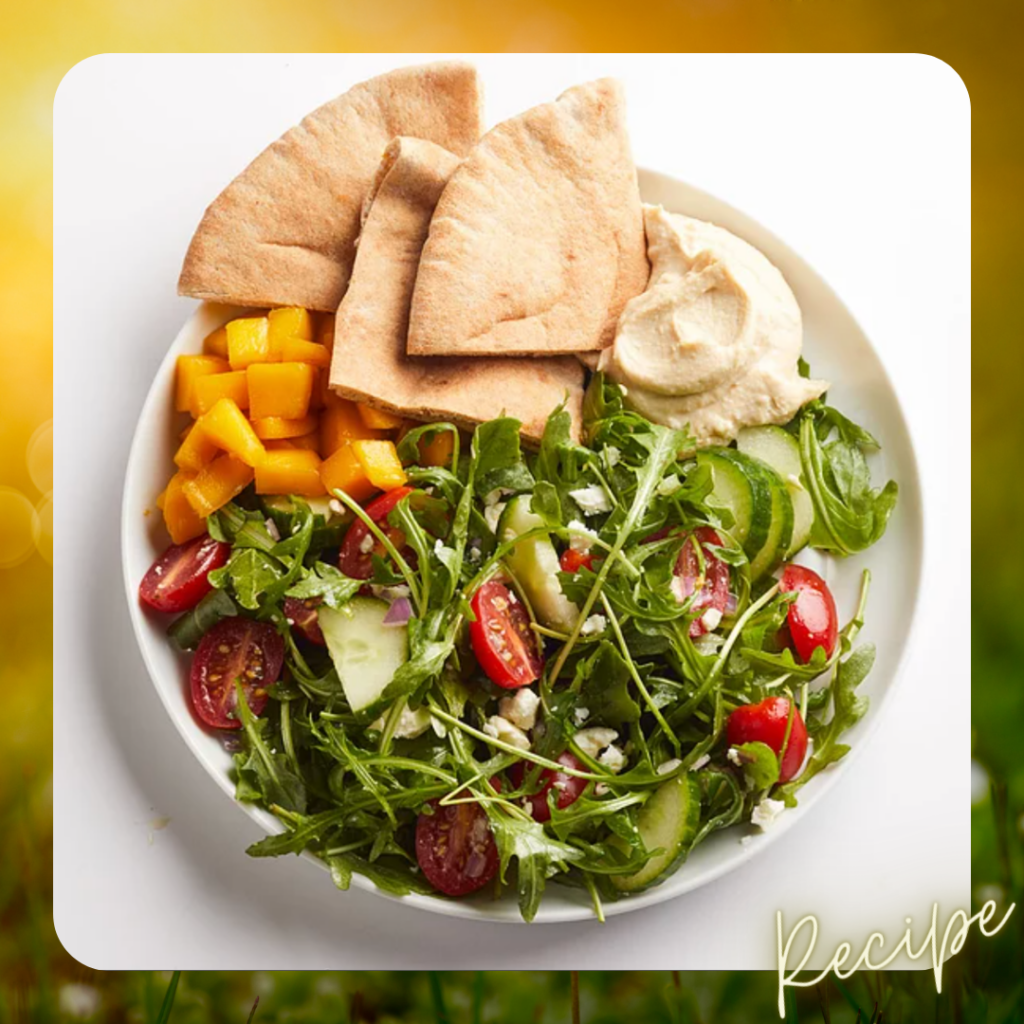 ⭐️Ingredients
2 cups arugula
⅓ cup cherry tomatoes, halved
⅓ cup sliced cucumber
1 tablespoon chopped red onion
1 ½ tablespoons extra-virgin olive oil
2 teaspoons red-wine vinegar
⅛ teaspoon ground pepper
1 tablespoon feta cheese
1 4-inch whole-wheat pita
¼ cup hummus
⭐️Directions
Toss arugula in a bowl with tomatoes, cucumber, onion, oil, vinegar and pepper. Top with feta. Serve with pita and hummus.
---
Check out this AMAZING West Coast Avocado Toast from our Sculpt-to-Spring Meal Plan care of our very own culinary genius @cookinrd 👩🏻‍🍳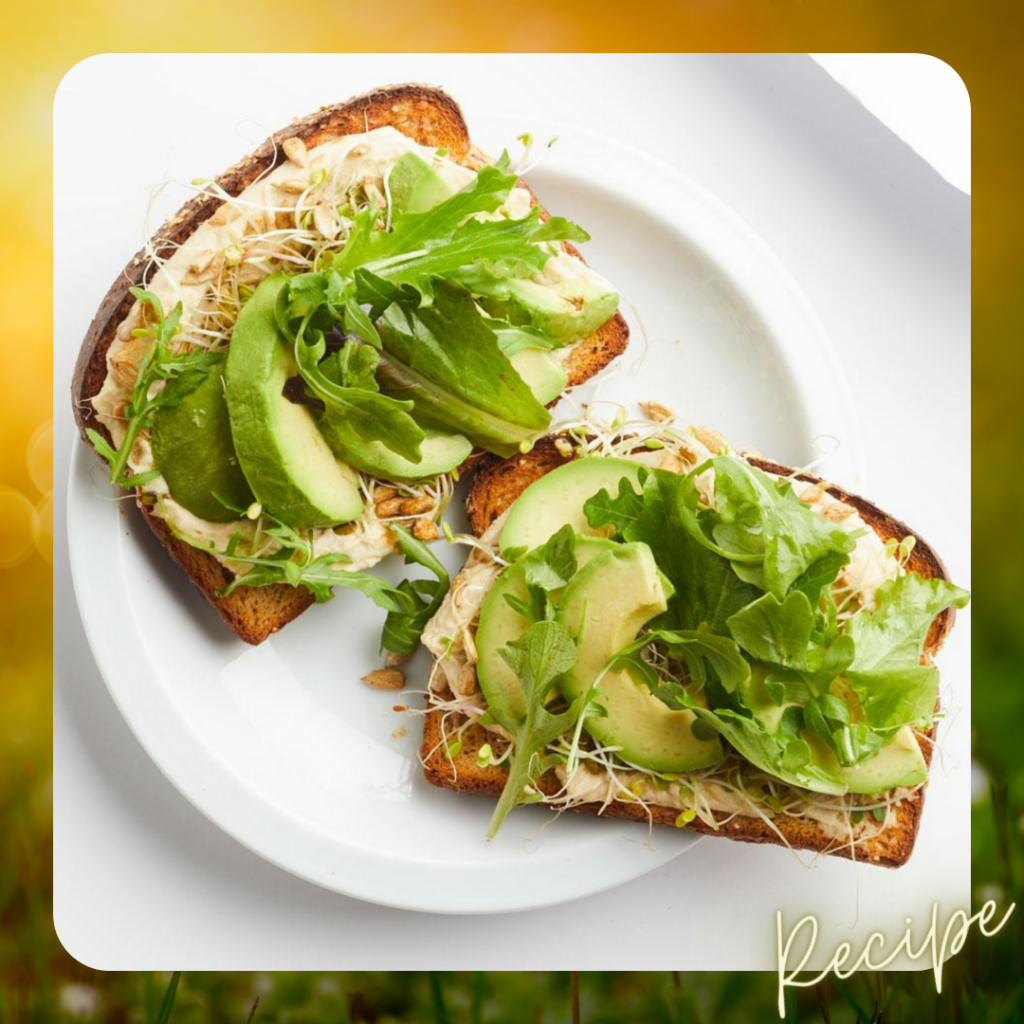 🔹Ingredients
1 cup mixed salad greens
1 teaspoon red-wine vinegar
1 teaspoon extra-virgin olive oil
Pinch of salt
Pinch of pepper
2 slices sprouted whole-wheat bread, toasted
¼ cup plain hummus
¼ cup alfalfa sprouts
¼ avocado, sliced
2 teaspoons unsalted sunflower seeds
🔹Directions
Toss greens with vinegar, oil, salt and pepper in a medium bowl. Spread each slice of toast with 2 tablespoons hummus. Top with sprouts, avocado and the greens and sprinkle with sunflower seeds.
---
This Green Goddess Spring Salad is your next favorite!
*Creamy AF
*Crunchy and not at all soggy or sad
*Fresh and bright
*Light enough to have as a side
*Tasty enough to enjoy as a main – just add some extra protein!
*Easy to make – under 15 minutes!Ingredients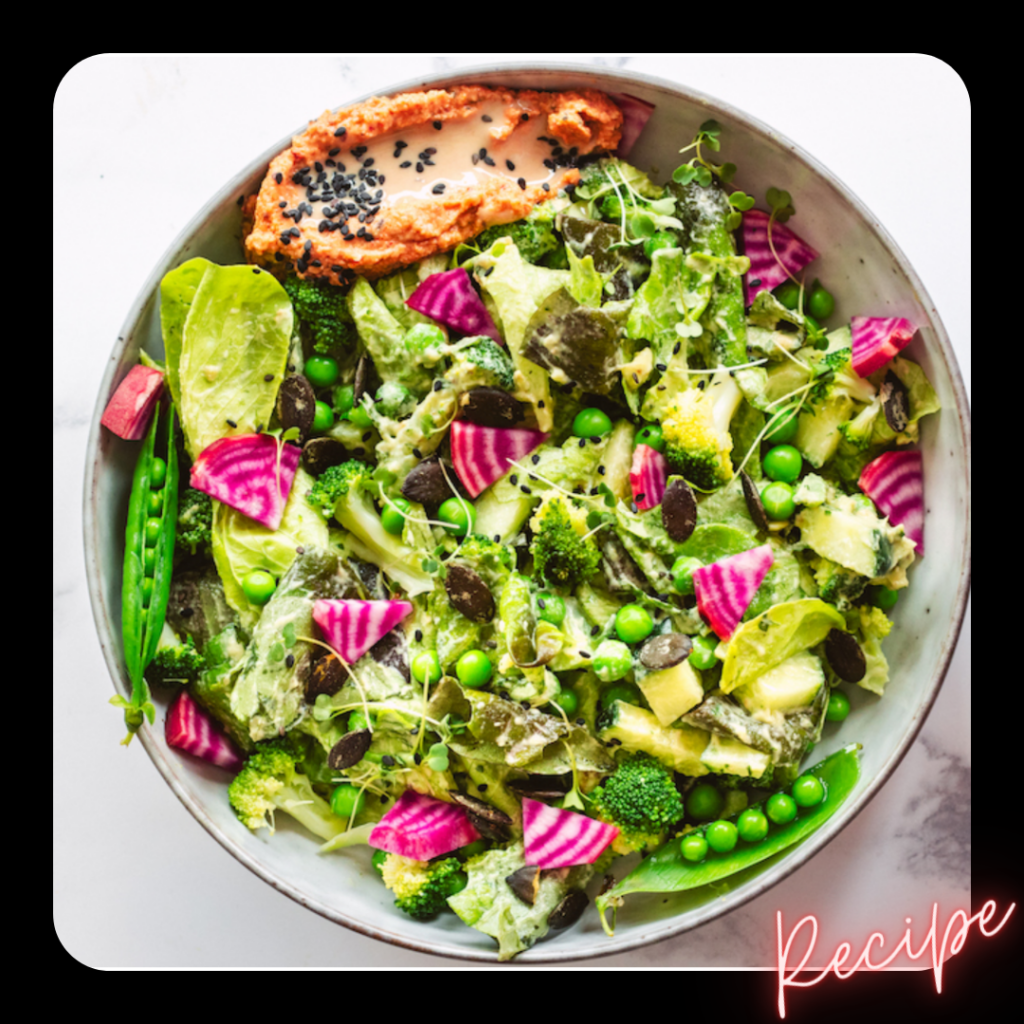 Ingredients
*Salad Dressing
1 avocado, pitted and flesh scooped
1 lime, juiced
2 tablespoon light tahini
2 tablespoon olive oil
Large handful fresh basil
1 teaspoon miso paste
Salt & pepper, to taste
Water, to thin
*Salad Greens
2 heads butterhead lettuce
1 head of broccoli, chopped into florets
1 cup fresh green peas (can also use frozen)
1 beetroot, peeled
2 tablespoons sesame seeds
2 tablespoons pumpkin seeds
Handful sprouts
Instructions
*For the dressing
-Simply whizz all the ingredients together in a lil' food processor or blender, or mash the avocado by hand and stir in the remaining ingredients.
-Set aside while you prepare the salad.
*For the greens
-Prepare the fresh peas by boiling in a pot of salted water for 5-8 minutes, and add the broccoli for the final 3 minutes. They're done when tender and bright green – drain and place into a large bowl with ice and water to stop the cooking.
-Remove and discard outer leaves of the butterhead lettuce. Chop remaining leaves into bite-size pieces, rinse and dry (I use a salad spinner). Set aside in a large bowl.
-Chop your beet in thin slices, with either a mandolin or a good knife – be careful with your fingers! Place in the bowl with the lettuce.
-Drain the peas and broccoli and add to the large bowl with the other salad ingredients and dressing.
-Toss together with the salad until every.single.leaf is coated in its glorious creaminess.
*Notes
-Serves 4 as a side or 2 as a main – add some hummus and extra protein if serving as main (tofu, beans, salmon, etc).
---
A healthy, easy Mexican chicken casserole recipe your entire family will love!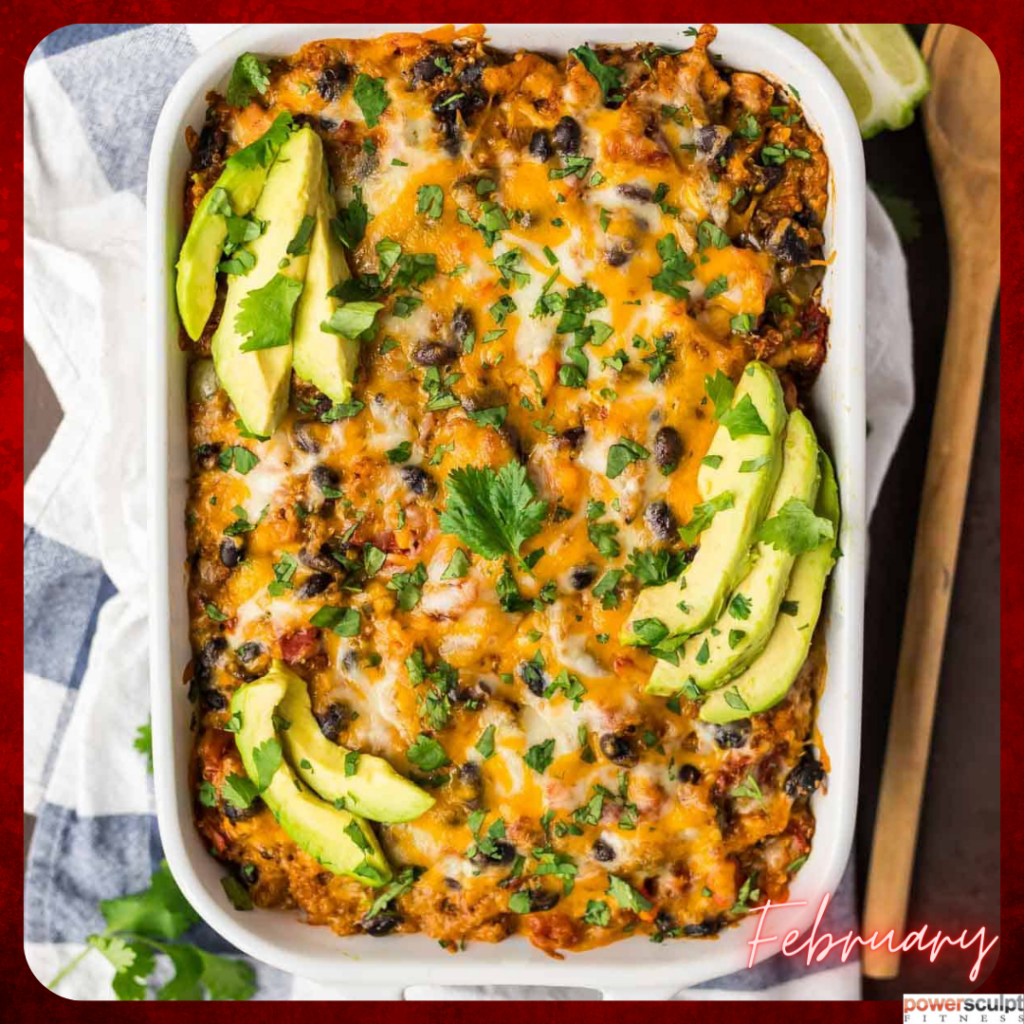 INGREDIENTS:
1 cup uncooked quinoa
1 tablespoon olive oil
1 yellow onion chopped
1 green bell pepper chopped
1 red bell pepper chopped
1 pound boneless skinless chicken breasts cut into bite-size pieces (about 2 large breasts)
1 tablespoon, plus 2 teaspoons chili powder
1 1/2 teaspoons ground cumin
1/2 teaspoon kosher salt
1/2 teaspoon ground black pepper
1/4 teaspoon cayenne pepper
1 teaspoon minced garlic about 2 cloves
1 can fire-roasted diced tomatoes (15 ounces) well drained
1 can black beans (15 ounces) , rinsed and drained
1 cup plain nonfat Greek yogurt
1/2 cup freshly grated sharp cheddar cheese divided
1/2 cup freshly grated mozzarella cheese divided
Fresh cilantro for serving
DIRECTIONS:
Preheat the oven to 350 degrees F. Coat a large casserole dish (9×13 inch or similar) with nonstick spray and set aside.
Place 2 cups water and quinoa in a large saucepan, then bring to a low boil. Reduce heat to low, cover, and let cook for 15 minutes. Remove from heat and let stand, covered, for 5 minutes. Fluff with a fork and set aside.
In a Dutch oven or similar large, deep sauté pot, heat the olive oil over medium high. Add the onion, green bell pepper, and red bell pepper. Sauté until slightly softened, about 5 minutes. Add the chicken, chili powder, cumin, salt, black pepper, and cayenne pepper. Continue to sauté until the chicken is cooked through and no longer pink, about 4 to 5 minutes. Add the garlic and drained tomatoes and cook 1 additional minute. Remove from the heat. Stir in the black beans, reserved quinoa, Greek yogurt, 1/4 cup cheddar cheese, and 1/4 cup mozzarella cheese. Taste and adjust seasoning as desired.
Transfer the mixture to the prepared baking dish and spread evenly in the pan. Top with remaining cheddar and mozzarella. Bake, uncovered, until the cheese is melted and the casserole is hot, about 15 minutes. Turn the oven to broil, then continue cooking until the cheese is lightly browned, about 3 to 4 additional minutes, watching carefully so that the cheese does not burn. Let rest 5 minutes, sprinkle with chopped cilantro, and serve.
---
These grilled zucchini nachos are just loaded with summery fresh healthy goodness and make for an awesome Super Bowl treat!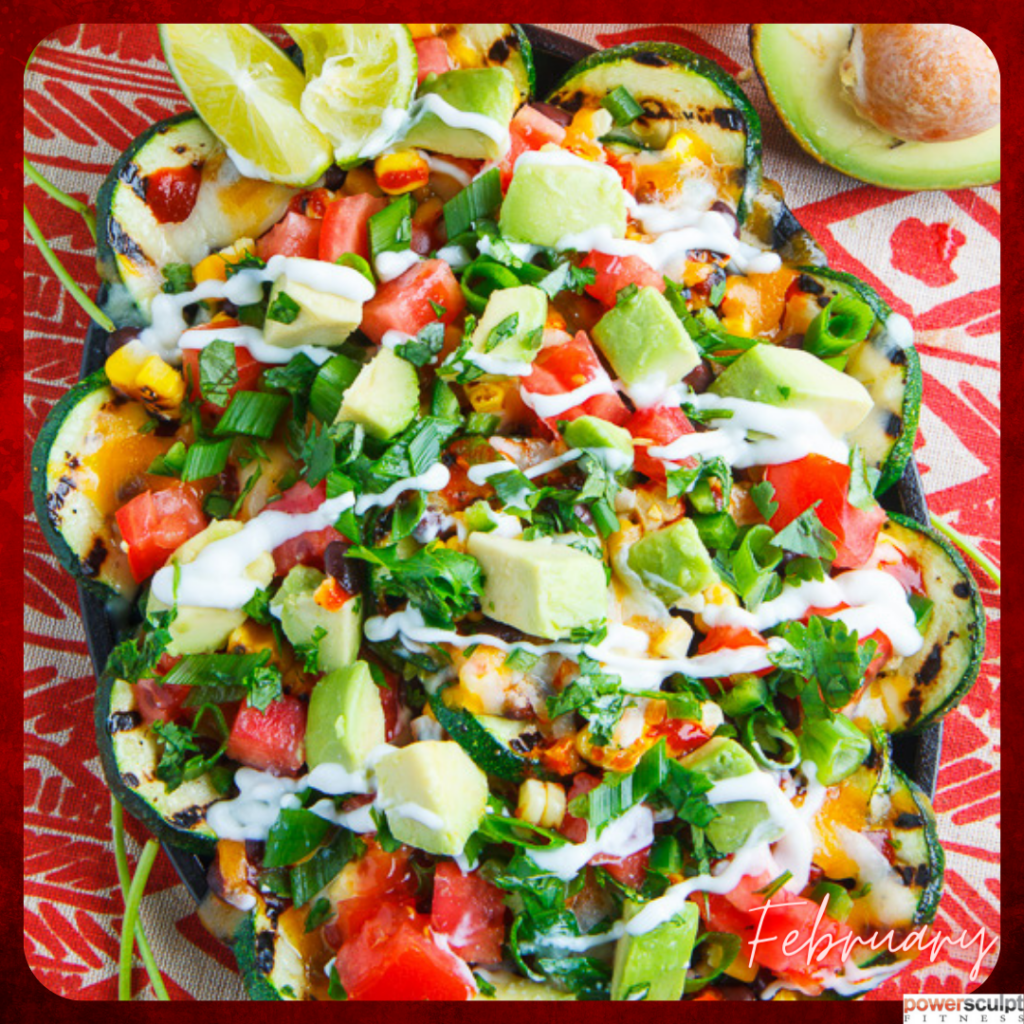 ⭐️Ingredients
▪️4 medium zucchini, cut into 1/4 inch discs
▪️salt and pepper to taste
▪️1 tablespoon oil
▪️1 cup black beans
▪️1 cup corn (optionally grilled)
▪️hot sauce to taste
▪️1 cup cheese, shredded
▪️1 cup tomato, diced
▪️1/4 cup green or red onions
▪️1 jalapeno, finely diced (optional)
▪️1 avocado, diced
▪️1/4 cup cilantro, chopped
▪️1 tablespoon sour cream
▪️2 tablespoons lime juice, (~1 lime)
⭐️Directions
▪️Toss the zucchini in the oil, salt and pepper and cook on the grill or in a grill pan over medium heat until just tender but still slightly crispy, about 2-3 minutes per side, before topping with cheese and cooking until it melts, about 1-2 minutes.
▪️Serve the cheesy grilled zucchini topped with the beans, corn, tomato, onions, jalapeno, avocado, cilantro, sour cream and lime juice.
---
One-pan orange salmon with sweet potatoes and broccoli is an easy and nutritious weeknight meal that's ready in just 20 minutes!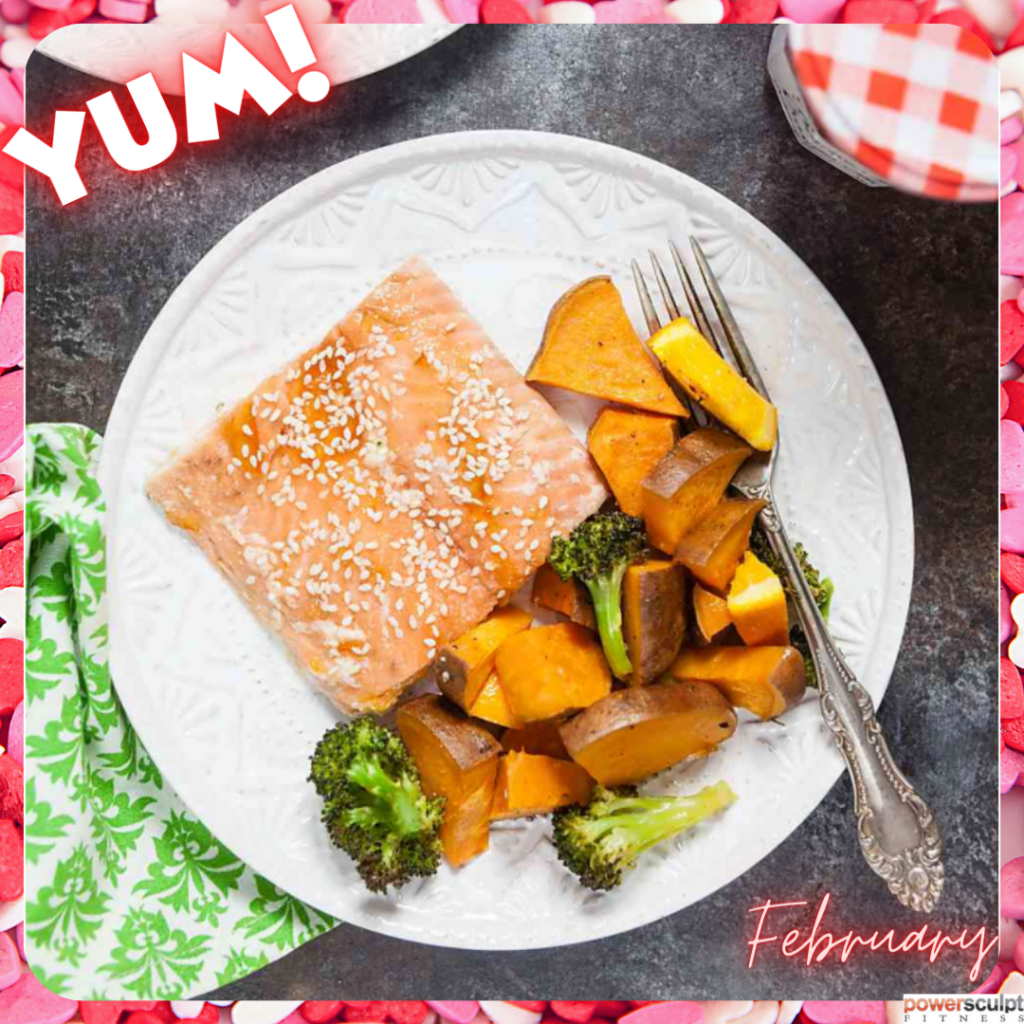 ⭐️Ingredients
▪️2 sweet potatoes
▪️1 head broccoli
▪️2 tablespoons olive oil
▪️1 small naval orange
▪️3 tablespoons orange marmalade
▪️1 teaspoon reduced sodium soy sauce
▪️1/2 teaspoon sriracha
▪️4 4-ounce salmon filets
▪️1 tablespoon sesame seeds
⭐️Instructions
▪️Heat your oven to 400ºF.
▪️Scrub the sweet potatoes and cut them lengthwise into quarters; slice into 1-inch pieces. But the broccoli into florets. Cut the orange into segments.
▪️Arrange the vegetables on a baking sheet and drizzle with olive oil; mix to coat. Season with salt and pepper. Place the orange segments on top of the vegetables. Bake for 10 minutes.
▪️In a small bowl, combine the marmalade, soy sauce, and sriracha. Remove the baking sheet from the oven and push the vegetables to the sides of the pan to make room for the salmon. Place the salmon on the pan and slather each filet with the marmalade glaze. Return the pan to the oven and bake another 10 minutes, or until the salmon is cooked to your liking. Sprinkle the salmon with sesame seeds. Discard the oranges or, if desired, squeeze the juice over everything.